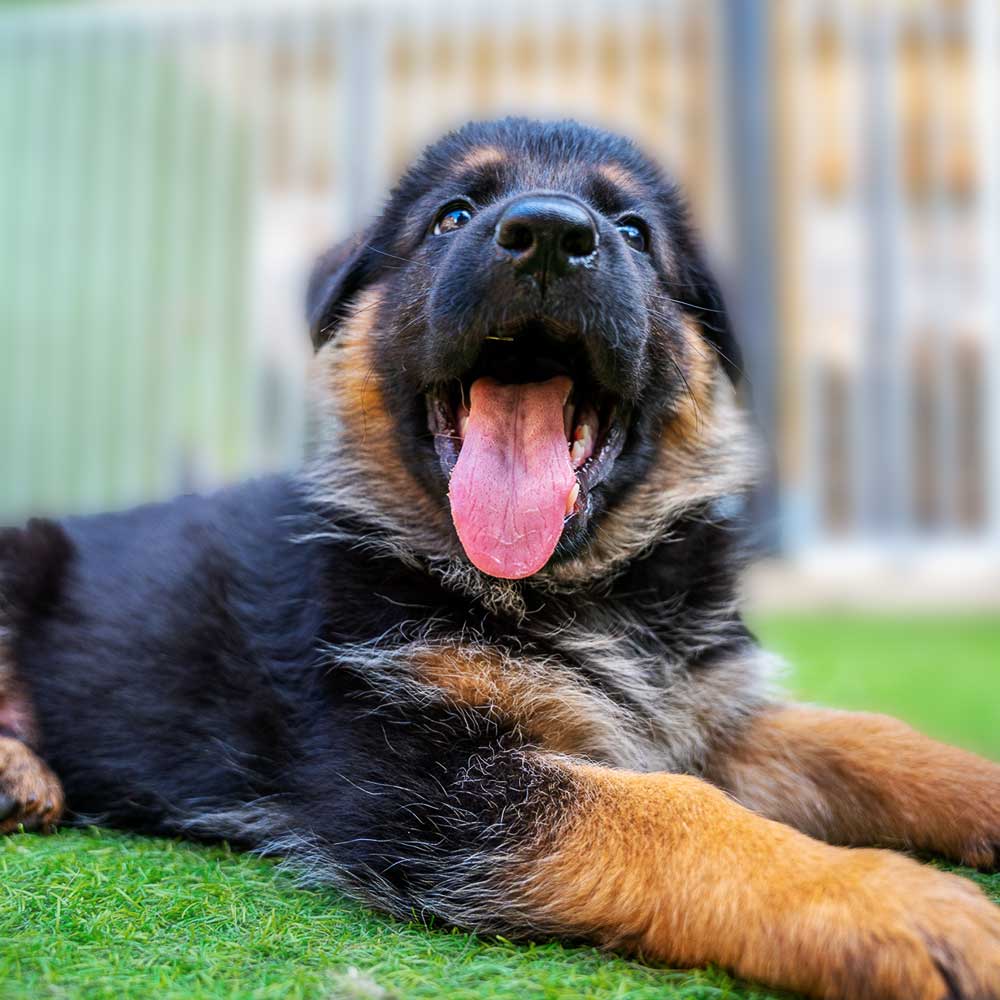 PUPPY TRAINING
Our Puppy Training packages are specially designed to take you and your Puppy on the journey through the various stages of your Dog's development. Starting with the basic behaviour training all dogs require to what we expect of them, up to advanced level training that can really enhance owner control, dog participation and build an everlasting bond.
Many of our customers with problem dogs say they wish they had come to us for puppy training and learned how to avoid the problems in the first place.
WHY PUPPY TRAINING IS SO IMPORTANT
Focusing on puppy training is essential to ensure a strong bond and proper communication with your dog. At The Dog Training Company, we emphasise teaching you how to effectively communicate and interact with your dog, as this approach allows you to get the best results from your dog's training. Through tutoring and demonstration, we teach you the most effective methods for training your dog.
Making the best choice for your puppy's training is an investment that will reward you immensely, with the enjoyment of a well-behaved dog and an unbreakable bond. Many of our Behaviour and Obedience Training clients have made mistakes during these crucial early stages, leading to significant problems later on. We can help you avoid these pitfalls by guiding you through the process of Selecting the right puppy and How to find a good dog breeder.
Our services include Home Visit Training and Residential Training, ensuring that we cater to your individual needs and preferences.
To begin your puppy's training journey, book a Dog Training Assessment and discover how we can help you create a well-behaved and obedient companion.
Collapsible content
PUPPY TO ADULT TRAINING PACKAGES

Giving your puppy the best start in life!

Our Puppy-to-Adult training is designed to take you and your puppy through every vital stage of  their development, up to the point of adulthood and help guide you through each stage to ensure you achieve the goals and behaviours that you desire. Our puppy training has three stages; Puppyhood,  Adolescence and Young Adult, with each stage focusing on the development of your dog at that time.  

Each stage (which can be purchased  individually or as a full package) has been designed to target specific training requirements and combat any issues that may arise as your puppy grows. 

We have three tiers of training to meet all budgets and support levels. As you continue through the course, you and your dog will learn more advanced  training techniques and at the end of the course, with dedication to the programme, you will have a dog that is  controllable and fun to be with in all environments.
PUPPY SOCIALISATION

Giving our puppies the correct type of socialisation is key to their ongoing behaviour development. Because this is so important, we offer socialisation drop off days, maybe whilst you're at work, so that your puppy can learn the most appropriate way for dogs to behave socially.
PERSONAL TRAINING

We offer One to One Personal Training for Puppies. Maybe our Group classes don't suit your time schedule or you would prefer a more personal approach to Training. We will plan a bespoke course that takes you and your new puppy through the basic behavioural and obedience techniques that are required to have a well behaved dog in all situations, as well as focusing on any specific issues that may crop up.
HOME VISIT TRAINING

Bringing a new puppy into the home can be a daunting task. To avoid future problems it is vital that you get things right at the outset with good puppy training. Your puppy's behaviour is instinctive and things like mouthing, jumping up and crying through the night although not seen as big issues to begin with can lead to major problems in the future if not dealt with properly at the start.

We will visit you and your new puppy in your home and show you all those important little things that you need to know, but just don't know where to start. Things like the best way to start toilet training, how to best play with your puppy to build the best bond and how to make sure they know where they fit into the family group. The sooner this is done the better and failure to get it right can lead to future problems that can be difficult and very time consuming to fix in the future. We offer Home Training for Puppies before final vaccinations so you are not waiting to make a great first impression on them.
BOOST DAY TRAINING

A Boost Day provides a full day of intensive training for your puppy with one of our professional trainers, allowing them to make significant progress in a short amount of time and allows us to judge the level of progress expected over the course. Your puppy becomes our dog for the day, drop them off in the morning and collect them at the end of the day. Your dog will work with one of our experienced trainers to address key behaviours and training goals.

The boost training days are structured and tailored to your puppy's specific needs, allowing them to make the most of the day. The overall goal of a Puppy Boost Day is to help us to understand their training capabilities. Alongside the Boost Day, we also schedule one of your 1-hour training sessions, where you will receive the theory, knowledge and training exercises needed to continue your learning journey with your puppy at home.
RESIDENTIAL TRAINING

If you feel that your puppy would benefit from some more intensive training, we are able to offer our Home Life training to puppies. This option is a house based training plan, where your dog will be paired with one of our expert trainers for the duration of their stay and be housed within the trainers home for this period. This plan is particularly popular with young dogs and our recommendation for all dogs under 6 months. Home Life is great if you need any help with toilet training or over excitement in the house or garden, or would would like to combine the beginning of your puppies training with a planned holiday for yourself.
PUPPY PRE-TRAINING ASSESSMENT

Before you commit to any of our training courses, we can complete a puppy pre-training assessment with you and your puppy at one of our Training Centres. This allows us to understand what your training goals are, then write a course tailored to make them a reality, build good owner to dog communication and reliable obedience. During the initial assessment your trainer will discuss the training options available to you.
Book Your Puppy Assessment Now
Enquire About Puppy Training