Welcome to The Dog Training Company
Thank you for your interest in working with The Dog Training Company.
We would be love to work with you, to help resolve any issues you are experiencing and achieve the goals you have set with your dog.
Here is some more detailed information on what we offer
We provide you with the most up to date, scientifically proven dog training.
We guide and support you on your training journey with us.
We help your dog become the companion you've always dreamed of.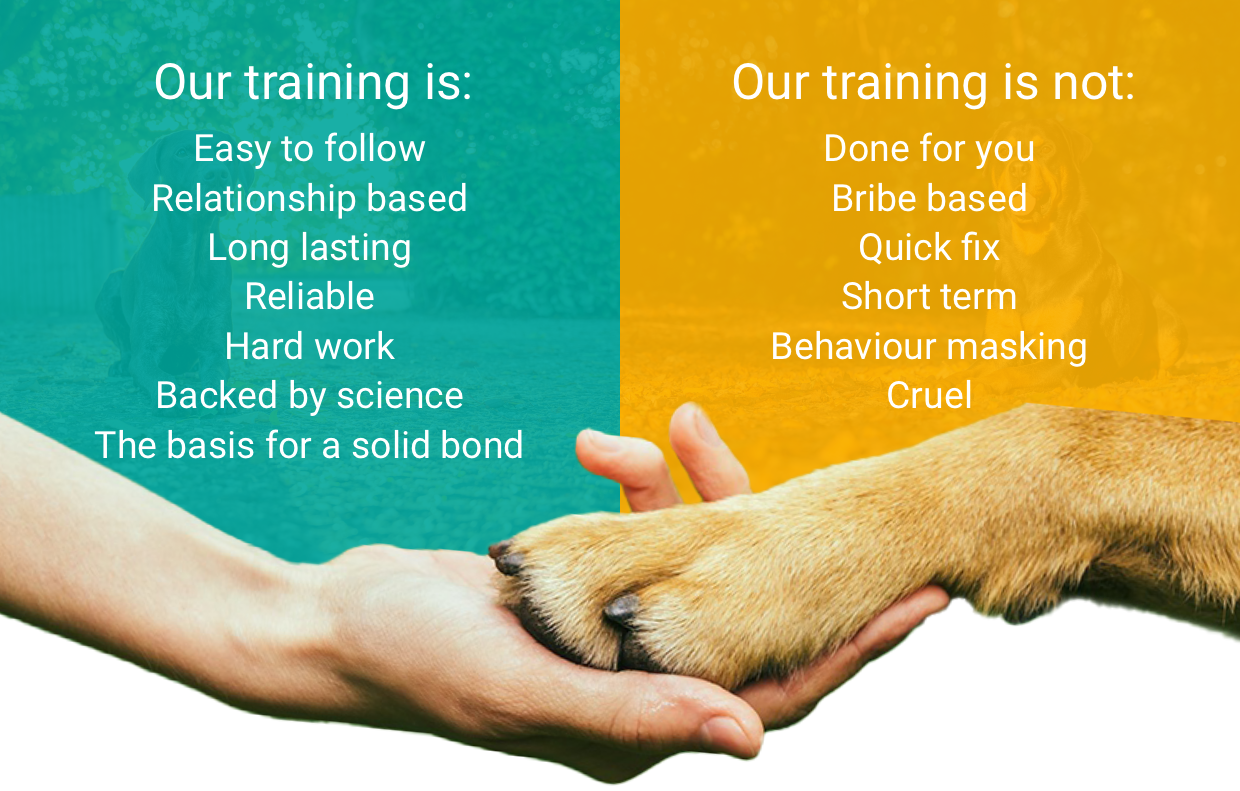 Centre Sessions

A course of 1-hour sessions with your trainer at your nearest centre. Your trainer will guide you through the theory and practical exercises tailored to your dog's needs and progress. These sessions are a great opportunity to ask questions specific to your dog's behaviour and receive feedback on the techniques as you practice.

Owner Boost Day

The aim of this day is to support you with your handling skills, improve the behaviour of your dog in real-world environments and socialisation around other dogs. Owner Boosts are group days and consist of a morning at the training centre, followed by an afternoon putting everything into practice in a real-world environment.


Dog Boost Day

A full day of intensive training for your dog with one of our professional trainers, allowing them to make a significant progress in a short amount of time. Boost Day's allow us to judge the level of progress your dog may achieve. Drop off in the morning and return at the end of the day for one of your Centre Sessions.

Home Visit Training

Our trainer will visit you and your dog at home, or you can take your training into the real world with a 'park visit'. It's a great way to test everything you've learned and work on specific challenges you may be encountering. Home Visits are a great way to become more confident when out and about with your dog.


Training Videos

Enjoy access to the training videos to accompany your face-to-face training. Contains all theory modules and all our of practical exercises. This gives you the opportunity to look back on everything you've learned when working with your trainer.


Online Resource

Documents and E-books to support your training at home. Includes all of our theory modules and the practical
exercises, which your trainer will explain in your very first session. These are a great memory aid and ensure you're following the practical exercises correctly.

Online Support

If you have specific questions or need additional guidance while continuing your training journey at home, you can enjoy the benefit of contact with our dedicated training support team between your face-to-face sessions at your chosen centre.

Training Packs

Lead: 2-metre custom-made lead. Starter Kit contains: Bag, collapsable drinking bowl, 2-metre lead, biodegradable poo bags and holder. Deluxe Kit contains: Bag, collapsable drinking bowl, 2-metre lead, 5-metre lead, biodegradable poo bags and holder.
Track your dog's training progress and session notes from your trainer.

Upload/view photos videos of your dog's training via your Google Drive link

Theory, practical, video, PDF documents & online trainer support

Online Video Vet Consultation with Silver Packages & above
Our Residential Training Packages start at £1350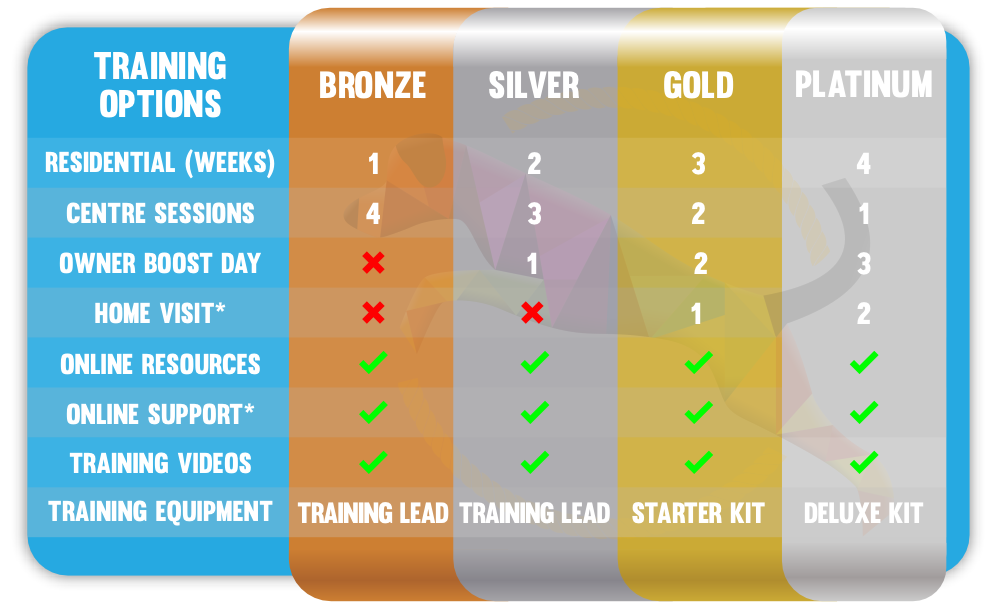 Book Your First Consultation Now
Our Training Explained: What's Home Life & Residential
Home Life Residential Training is a home based course, where your dog will stay in their dedicated trainers home and become their dog for the duration of the course. We find that the extra attention this course enables us to give, brings fantastic results.
Residential Training is available in our 5-star Kennel Facility at the Leeds Centre. Your dog will be cared for by our highly experienced staff and receive dedicated training every day of their stay to focus on your requirements.
Our Training Explained: What's an Owner Boost Day?
A boost day is where your dog becomes our dog for the day. It's a great way to supercharge the start of your dog's training and establish the right foundations for training success. Our boost days are accompanied by a 1-hour face-to-face session (either at the start of the day when you drop your dog off, or at the end of the day when you come to collect your dog), where your trainer will explain your dog's boost day training in-depth. Discover how a Boost Day can provide a supercharged start to your training journey in our short film below...
Our Training Explained: How does Home Visit Training work?
Let us bring our expertise to you and teach you in the comfort of your own home, or a setting of your choice, like your favourite dog walking park. We will visit you and your dog in your home and show you all those important little things that you need to know but just don't know where to start. Our training covers the entire behaviour spectrum, including the best way to start toilet training, how to play with your puppy and how to make sure they know where they fit into the family group.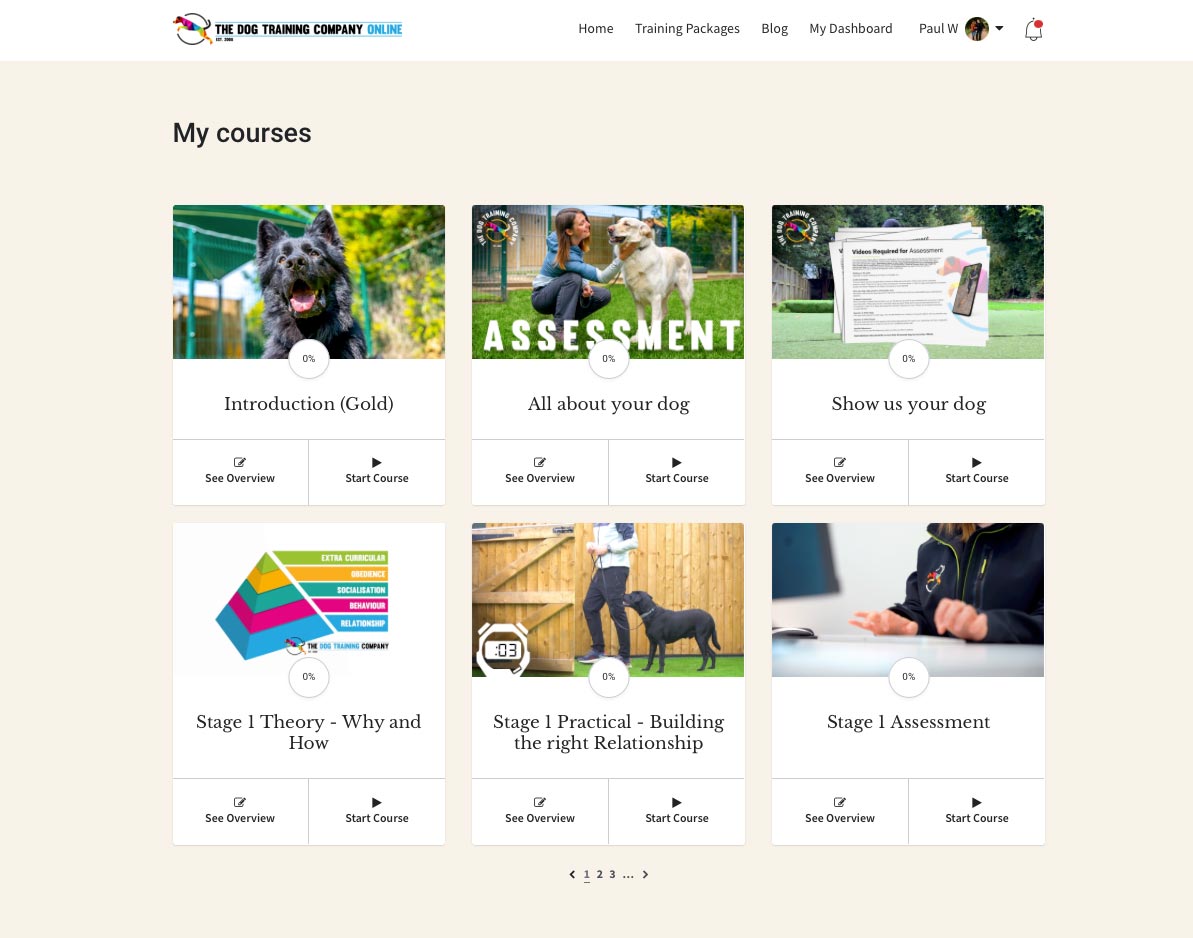 Our Training Explained: What is the online training platform?
Our online training platform includes all the theory and practical content which your trainer will share during sessions at your chosen training centre. Gold & Platinum customers can enjoy support from their dedicated trainer between sessions.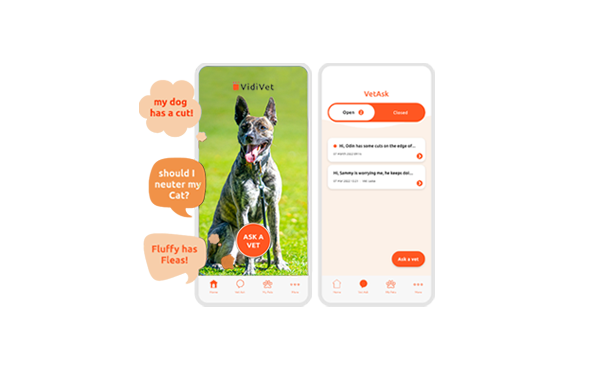 Our Training Explained: What is VidiVet?
We are proud to partner with VidiVet for vet video consultations and questions throughout your training course. Perfect for all those little pet health queries but without the hassle of a trip to the vets. A complimentary subscription is included* in your training package.
(* - included with silver training packages and above).

Book Your First Consultation Now